Tell A Friend $5 and 5%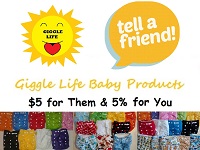 NEW! Giggle Life Cloth Diapers Tell A Friend $5 and 5% Program
Do you have any friends or family expecting or currently with young children? Well send us an email through our contact us page with your full name, their names and email addresses. We will send them each a $5CAD gift voucher from you FREE of charge.
On top of that when they complete a purchase with the gift voucher we will send you 5% off their order value in the form of a gift voucher that will accumulate from all your referrals.

Help us spread the word and keep our advertising dollars down so that we can continue to provide these amazing products at these great low prices.

*Please note only one gift voucher will be accepted per order and can not be redeemed for cash.

Have any baby showers coming up or want to send them more than $5?